After ClipperCreek became a division of Enphase, it started selling the Enphase HCS-50 EV Charger under its own brand. To learn about the key features, pros, and cons of this charging solution, continue reading!
Enphase is a well-known brand in the solar industry, and they have now expanded their product line to include EV chargers. The Enphase HCS-50 EV charger is a Level 2 charging station that can charge your EV up to six times faster than a standard Level 1 charger.
When looking for an EV charger, it's essential to consider the charging speed, compatibility with your EV, and the reliability of the product. The Enphase HCS-50 EV charger checks all these boxes and more. It's compatible with all EV models and can be easily installed both indoors and outdoors. Plus, it comes with smart features like Wi-Fi connectivity and a mobile app that allows you to monitor your charging status and schedule charging sessions.
Pros & Cons of the Enphase HCS-5 EV Charger
If you're an EV owner looking for a reliable and efficient charging solution, the Enphase HCS-50 EV charger is an excellent option. In the next section, we'll take a closer look at pros and cons.
Pros
Quick charging time
Durable and weather-resistant
Easy to install
Cons
A bit pricey
May not be compatible with all EV models
The cable may be too short for some users
This EV charger is perfect for anyone who wants to charge their EV quickly and efficiently. The Enphase Level 2 EV Charger is also built to last. It's safety-certified by ETL and designed to withstand high use and a wide range of temperatures. Plus, it comes with a fully sealed outdoor-ready NEMA 4 enclosure to keep internal components dry and protected from the elements.
Installation is a breeze with the Enphase HCS-50 Level 2 EV Charger. It comes fully assembled and can be quickly installed to a dedicated 50 Amp circuit with any licensed electrician. Plus, it includes a rugged and flexible 25-foot-long cable with a J1772 connector, so you can charge your plug-in on the other side of the garage or in the driveway.
Enphase HCS-50 Charger Specifications
The Enphase HCS-50 Level 2 charging station is designed for indoor or outdoor use and can be permanently mounted on a wall or pedestal, making it a convenient and reliable choice for your home or business.
With a charging power of 40 Amps, the HCS-50 is ideal for plug-in electric vehicles such as the Ford Focus, Kia Soul, Honda Clarity, all Tesla Models, BMW i3, or others with a Type 1 outlet. It comes equipped with a 25-foot charging cable that hangs up neatly on an integrated cable wrap and holster. This not only keeps your equipment organized but also ensures that cables and connectors stay off the ground, protected from dust, dirt, and rollovers.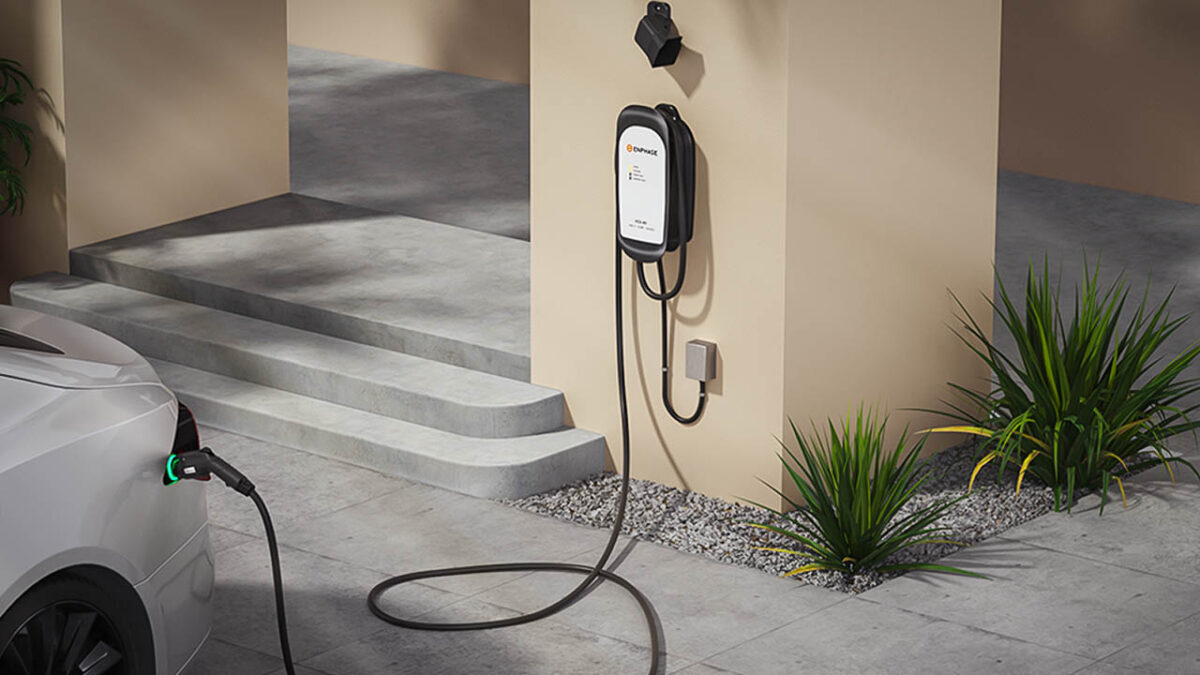 The HCS-50 EV Charger is built to withstand extreme weather conditions and high-traffic use. Its rugged design features an impact-resistant SAE J1772 connector and a fully-sealed NEMA 4 enclosure (in case you don't connect it hardwired) that can be installed anywhere. Additionally, the EV connector is Type 4X watertight and has a corrosion-resistant rubber over-mold, making it crush-resistant and long-lasting.
| Name | Specifications |
| --- | --- |
| Wiring Plug | NEMA 14-50, Nema 6-50, hardwiring |
| EV Connector | J1772 (Type 1) |
| Max Power Output | 40A, 9.6 kW |
| Power Requirements | 208/240 V 50A |
| Mounting type | Wall, Pedestal |
| Cable Length | 25ft (7.6 m) |
| Average Retail Price | $810 |
| Size, WxHxD | 8.9"x19.7"x5.3" |
EV Charger Installation
The installation process is simple and straightforward, and you can do it yourself or hire a licensed electrician to install it for you. Follow these steps to install your Enphase HCS Charging Station.
Ensure that the location you choose for the charging station installation is near the electrical panel, and it has enough clearance and ventilation. Read the installation manual carefully, and make sure you follow all local building codes and regulations. The junction box is the connection point between the electrical panel and the Enphase HCS Charging Station. You need to mount the junction box near the electrical panel and run the electrical wiring from the panel to the junction box. Here are the steps to install the junction box:
Turn off the power to the electrical panel.
Mark the location for the junction box.
Install the junction box using screws and anchors.
Run the electrical wiring from the panel to the junction box.
Connect the electrical wires to the junction box.
After installing the junction box, mount the Enphase HCS-50 Charging Station on the wall by attaching the bracket with two screws. Follow the wiring diagram in the installation manual to connect the Charging Station. If you are using a NEMA plug, you can skip the previous steps. Once connected, test the HCS-50 to ensure it is working correctly.
Smart Features
The main issue with this charger is that it lacks smart features like Wi-Fi connectivity, mobile app integration, or voice control. As a result, you cannot monitor or control the charging process remotely or receive notifications on your smartphone. While some EV owners may prefer these features, others may not consider them essential or may already possess other devices with similar functionalities.
Charging
The Enphase HCS-50 does not require an on/off switch, which saves power with minimal standby power consumption. In the event of a minor power fault, an automatic circuit reclosure timer will re-check conditions to begin charging again as soon as possible, if needed. Moreover, the HCS-50 EV Charger is certified by ETL, cETLus, and ENERGY STAR®, ensuring that it is safe and efficient.
The maximum charging speed is limited to 40 amps with an onboard EV charger. Tesla requires an additional adapter to plug and charge from the charging station. There are no smart features, as we previously mentioned, and only four light-blink indicators show the charging status.
Frequently Asked Questions
How reliable is the Enphase HCS-50?
This charger is known for providing industry-leading durability and reliability and includes 5-year limited manufacturer warranty and outstanding customer service.
How fast does it charge?
This level 2 charger has 9x faster charging than the level 1 electric vehicle charger that your EV came with. It has 9.6kW of power or up to 38 miles per hour of charging.
Where can I find bidirectional EV chargers for sale?
Bidirectional EV chargers can be found for sale at various retailers and online stores. Enphase offers bidirectional EV chargers for sale on their website, as well as through authorized dealers.
How does it connect to my EV?
It comes with a 25-foot cable that uses a J1772 connector, which is the most compatible connection in the U.S.
Conclusion
The Enphase HCS Charging Station is a user-friendly, cost-effective, and reliable solution for charging your electric vehicle quickly and efficiently. However, the main drawback is the lack of smart features, such as Wi-Fi connectivity, voice control, or mobile app integration. Additionally, the price of the charger may be too high for some users.