Type 1 cables (SAE J1772, J Plug) are used to charge EV produced for North America, South Korea and Japan with alternating single-phase current. Due to its slow charging speed, it was replaced by the Combined Charging System (CCS) Combo Type 1 (SAE J1772-2009).
Almost all modern electric vehicles have an improved version, the CCS Combo Type 1, which allows charging from high-power DC circuits also known as rapid of fast chargers.
Contents:
CCS Combo Type 1 Specifications
Connector CCS Type 1 supports AC charging up to 80A. The use of a cable with cooling at the direct charge allows to achieve a charge of 500A if your EV supports it.
AC Charging:
| Charge Method | Voltage | Phase | Power (max.) | Current (max.) |
| --- | --- | --- | --- | --- |
| AC Level 1 | 120v | 1-phase | 1.92kW | 16A |
| AC Level 2 | 208-240v | 1-phase | 19.2kW | 80A |
CCS Combo Type 1 DC Charging:
| Type | Voltage | Amperage | Cooling | Wire gage index |
| --- | --- | --- | --- | --- |
| Fast Charging | 1000 | 40 | No | AWG |
| Fast Charging | 1000 | 80 | No | AWG |
| Rapid Charging | 1000 | 200 | No | AWG |
| High Power Charging | 1000 | 500 | Yes | Metric |
CCS Type 1 vs Type 2 Comparison
The two connectors are very similar on the outside, but once you see them together, the difference becomes obvious. CCS1 (and its predecessor, Type 1) have a completely circular top, while CCS2 has no upper circle segment. The CCS1 is also characterized by the presence of a clamp on the top of the connector, whereas CCS2 has only an opening and the clamp itself is mounted on the car.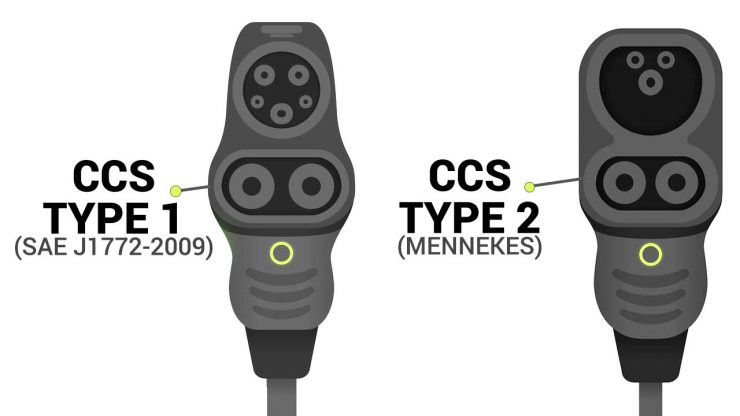 The key difference in the technical characteristics of the connectors is that it is not possible to work with three-phase AC power grids via the CCS Type 1 cable.
Which Cars use CSS Combo Type 1 for Charging?
As mentioned earlier, CCS Type 1 is more common in North America and Japan. Therefore, this list of automobile manufacturers establishes them serially in their electric vehicles and PHEVs produced for this region:
Audi e-Tron;
BMW (i3, i3s, i8 models);
Mercedes-Benz (EQ, EQC, EQV, EQA);
FCA (Fiat, Chrysler, Maserati, Alfa-Romeo, Jeep, Dodge);
Ford (Mustang Mach-E, Focus Electric, Fusion);
Kia (Niro EV, Soul EV);
Hyundai (Ioniq, Kona EV);
VW (e-Golf, Passat);
Honda e;
Mazda MX-30;
Chevrolet Bolt, Spark EV;
Jaguar I-Pace;
Porsche Taycan, Macan EV.
CCS Type 1 to Type 2 Adapter
If you export a car from the United States (or another region where the CCS Type 1 is common), you will have a problem with charging stations. Most of the EU is covered by charging stations with CCS Type 2 connectors.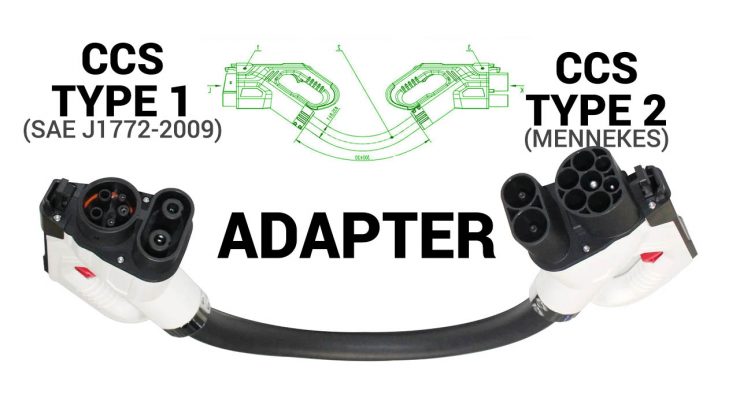 The owners of such cars have few options for charging:
Charge EV at home, through the outlet and the factory power unit, which is very slow.
Rearrange the connector from the European version of EV (for example, the Chevrolet Bolt is ideally fitted with an Opel Ampera socket).
Use CCS Type 1 to Type 2 Adapter.
Can Tesla use CCS Type 1?
There is no way to charge your Tesla S or X via CCS Combo Type 1 for now. You only can use adapter to Type 1 connector, but the charging speed will be awful.
What adapters should I buy for Type 2 charging?
We strongly discourage the purchase of cheap basement devices, as this could lead to a fire or damage to your electric car. Popular and proven models of adapters:
DUOSIDA EVSE CCS Combo 1 Adapter CCS 1 to CCS 2;
Charge U Type 1 to Type 2;
CCS Type 1 Pin layout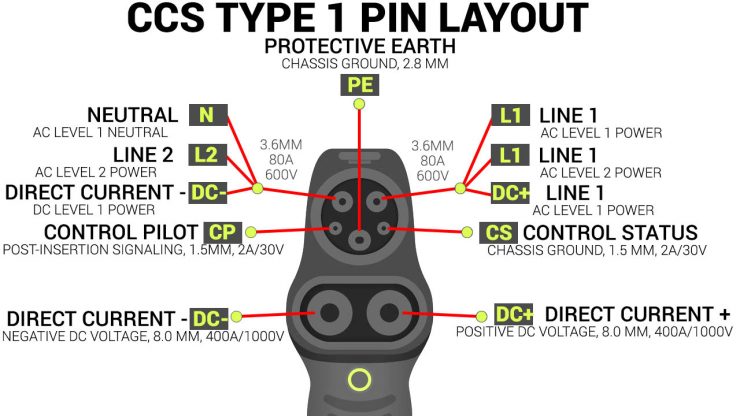 PE – Protective earth
Pilot, CP – post-insertion signaling
CS – control status
L1 – single-phase AC (or DC Power (+) when using Level 1 Power)
N – Neutral (or DC Power (-) when using Level 1 Power)
DC Power (-)
DC Power (+)
Video: Charging CCS Type 1

Types of Charging with J1772 and J1772-2009