CCS Type 2 cables (SAE J3068, Mennekes) are used to charge EV produced for Europe, Australia, South America and many others. This connector supports single- or three-phase alternating current. Also, for DC charging it was extended with direct current section to CCS Combo 2 connector.
Most of EVs created nowadays have Type 2 or CCS Combo 2 (that also has backward compatibility of Type 2) socket.
Contents:
CCS Type 2 Combo Specifications
Connector Type 2 supports three-phase AC charging up to 32A on each phase. A charging might be up to 43 kW on alternating current networks. It's extended version, CCS Combo 2, supports Direct Current charging which can fill battery with maximum 300AMP on supercharger stations.
AC Charging:
| Charge Method | Voltage | Phase | Power (max.) | Current (max.) |
| --- | --- | --- | --- | --- |
| AC Level 1 | 220v | 1-phase | 3.6kW | 16A |
| AC Level 2 | 360-480v | 3-phase | 43kW | 32A |
CCS Combo Type 2 DC Charging:
| Type | Voltage | Amperage | Cooling | Wire gage index |
| --- | --- | --- | --- | --- |
| Fast Charging | 1000 | 40 | No | AWG |
| Fast Charging | 1000 | 100 | No | AWG |
| Rapid Charging | 1000 | 300 | No | AWG |
| High Power Charging | 1000 | 500 | Yes | Metric |
CCS Type 2 vs Type 1 Comparison
The CCS Type 2 and CCS Type 1 connectors are very similar by design on the outside. But they very different on application and supported power grid. CCS2 (and its predecessor, Type 2) have no upper circle segment, while CCS1 has a completely circular design. That's why CCS1 can't replace its European brother, at least without special adapter.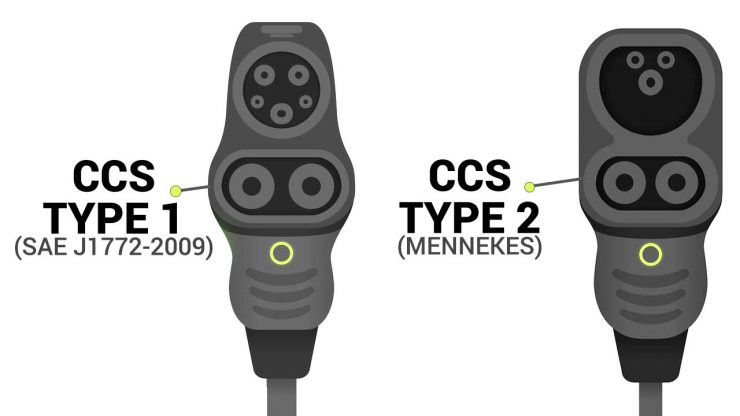 Type 2 surpasses Type 1 by charging speed because of three-phase AC power grid usage. CCS Type 1 and CCS Type 2 have almost the same characteristics.
Which Cars use CSS Combo Type 2 for Charging?
As mentioned earlier, CCS Type 2 is more common in Europe, Australia and South America. Therefore, this list of most popular automobile manufacturers establishes them serially in their electric vehicles and PHEVs produced for this region:
Renault ZOE (from 2019 Z.E. 50);
Peugeot e-208;
Porsche Taycan 4S Plus/Turbo/Turbo S, Macan EV;
Volkswagen e-Golf;
Tesla Model 3;
Hyundai Ioniq;
Audi e-tron;
BMW i3;
Jaguar I-PACE;
Mazda MX-30.
CCS Type 2 to CCS Type 1 Adapter
If you export a car from the EU (or another region where the CCS Type 2 is common), you will have a problem with charging stations. Most of the USA is covered by charging stations with CCS Type 1 connectors.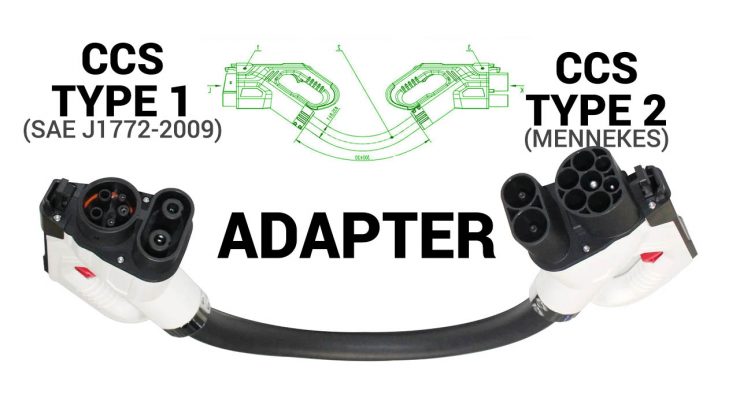 The owners of such cars have few options for charging:
Charge EV at home, through the outlet and the factory power unit, which is very slow.
Rearrange the connector from the United States version of EV (for example, the Opel Ampera is ideally fitted with an Chevrolet Bolt socket).
Use CCS Type 2 to CCS Type 1 Adapter.
Can Tesla use CCS Type 2?
Most of Tesla's produced for Europe has CCS Type 2 socket, that can be plugged to CCS Combo 2 via CCS adapter (official Tesla version price €170). But if you have US version of car, you must buy US to EU adapter, that allows 32A current, which represents a charging capacity of 7.6 kW.
What adapters should I buy for CCS Type 1 charging?
We strongly discourage the purchase of cheap basement devices, as this could lead to a fire or damage to your electric car. Popular and proven models of adapters:
DUOSIDA EVSE CCS Combo 1 Adapter CCS 1 to CCS 2;
Charge U Type 1 to Type 2;
CCS Type 1 Pin layout
PE – Protective earth
Pilot, CP – post-insertion signaling
PP – Proximity
AC1 – Alternating Current, Phase 1
AC2 – Alternating Current, Phase 2
ACN – Neutral (or DC Power (-) when using Level 1 Power)
DC Power (-)
DC Power (+)
Video: Charging CCS Type 2

Types of Charging with Type 2 and CCS Combo 2