Before you buy an electric car, you should know where to charge it. So, make sure there's a charging station nearby with the right type of connector plug for your car. All types of connectors used in modern electric vehicles and how to distinguish them reviewed in our article.
Contents:
Charging plugs among the different countries
When buying an electric car, one wonders: "why car manufacturers will not make the same connection on all manufactured EV for the convenience of owners?" The main mass of electric vehicles is divided by the country of manufacture. Four main areas can be easily traced:
North America (CCS-1, Tesla US);
Europe, Australia, South America, India, UK (CCS-2, Type 2, Tesla EU, Chademo);
China (GBT, Chaoji);
Japan (Chademo, Chaoji, J1772).
Therefore, importing a car from another part of the world can easily cause problems in the absence of charging stations nearby. Of course, you can always charge an electric car from a wall socket, but it's going to be a very slow process. You can read more about charging types and speeds in our articles about Levels and Modes.
Type 1 J1772
Standard Electric Vehicle Connector produced for the USA and Japan. The plug has 5 contacts and can be recharged according to Mode 2 and Mode 3 standards of a single-phase 230 V network (maximum current 32A). The maximum charging power of such a plug is 7.4 kW, it is considered slow and is outdated.
CCS Combo 1
The CCS Combo 1 connector is a Type 1 receiver and allows the use of both slow and fast charging plugs. The proper work of the connector is possible due to the inverter installed inside the car, which converts the alternating current into a direct. Vehicles with this type of connection can take the charging speed up to the maximum «rapid» charge. The CSS Combo is designed to charge 200-500 V at 200 A and power 100 kW.
Type 2 Mennekes
The Type 2 Mennekes plug is installed on almost all European electric vehicles as well as Chinese ones adopted for selling. Vehicles with this type of connector can be charged from both a single-phase and a three-phase power grid with a maximum voltage of 400 V and a current of 63 A. The maximum power of such charging stations is 43 kW, but it usually fluctuates below 22 kW for three-phase networks and 7.4 kW for single-phase networks. Electric vehicles are charged in Mode 2 and Mode 3.
CCS Combo 2
Improved and backward compatible version of Type 2 plug. Very common across Europe. Allows to use fast charging with power up to 100 kW.
CHAdeMO
The CHAdeMO plug is designed for use in powerful DC charging stations in Mode 4, which can charge up to 80% of the battery in 30 minutes (at a power of 50 kW). It has a maximum voltage of 500 V and a current of 125 A with a power of up to 62.5 kW. It is available for Japanese vehicles equipped with this connector. It is very common in Japan and Western Europe.
CHAoJi
CHAoJi is a next generation of CHAdeMO plugs, which could use chargers up to 500 kW with a 600 A current. The five-pin plug has combined all the advantages of its parent and has also been able to use GB/T charging stations (common in China) and CCS Combo via adapter.
GBT
Standard plug for electric vehicles produced for China. There are also two revisions: for alternating current and for direct current stations. The charging power through this connector is up to 190 kW at (250A, 750V).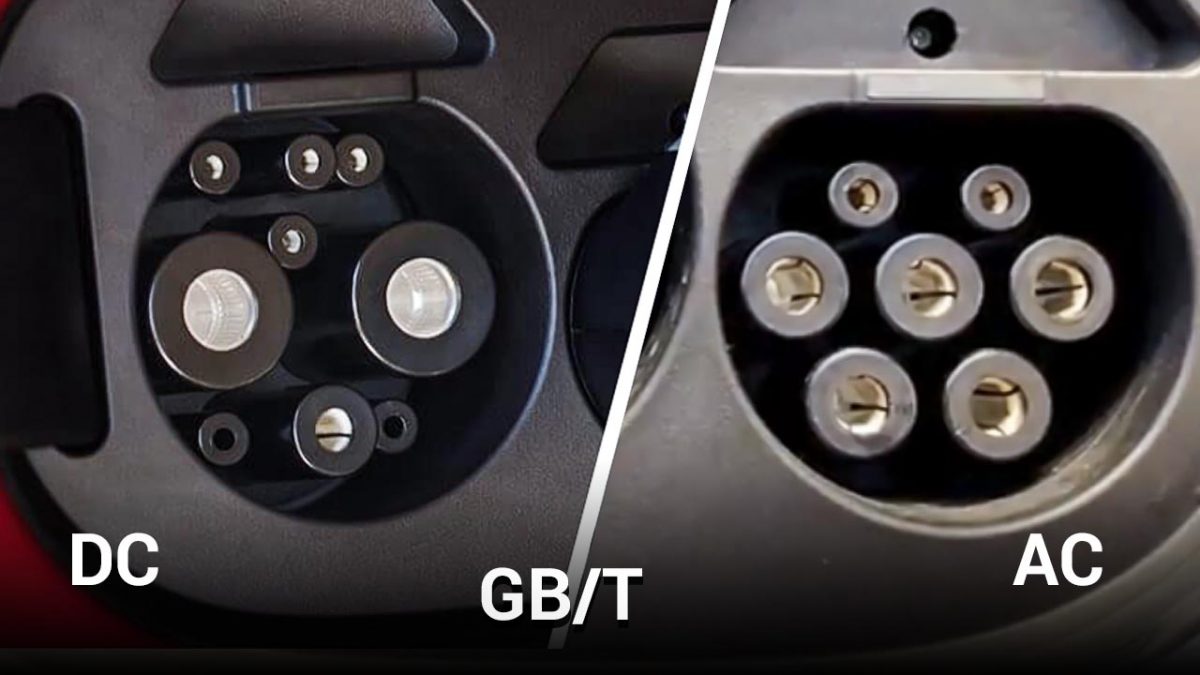 Tesla Supercharger
The Tesla Supercharger connector is different for the European and North American versions of electric cars. It supports fast charging (Mode 4) at stations up to 500 kW, and can connect to CHAdeMO, CCS Combo 2 via the specific adapter.
In summary, the following points are made:
It can be divided into three types by acceptable current: AC (Type 1, Type 2), DC (CCS Combo 1-2, Chademo, Chaoji, GB/T), AC/DC (Tesla Supercharger).
For North America, select Type 1, CCS Combo 1, Tesla Supercharger, for Europe - Type 2, CCS Combo 2, Japan - CHAdeMO, CHAoJi and finally GB/T and CHAoJi for China.
The most sophisticated electric car is Tesla, which supports almost any type of high-speed charger through the adapter but will have to buy an adapter.
High-speed charging is possible only through CCS Combo, Tesla Supercharger, Chademo, GB/T or Chaoji.
Video: Charging Plugs Explained

How to buy correct cable for your EV, plugs and cables